My supposed 3-week contract as Covid-testing nurse in Harley Street Clinic following its peak last year has lengthened and survived the 2nd wave UK lockdown and was in fact, nurtured by the rampant-variant development of this crippling COVID19 pandemic. Up to this very day, though the Lateral Flow testing ended my journey to "swab" my fellow staff/colleague, the significant volume of testing the compromising visiting policy seemed unending and unrelenting. Hence, Swabbing Clinic has now been fully established and fortified as the front-door defence of safety and confidence among the visitors and the hospital itself.
But there's a smoke coming out from the corner and spreading out. Far more virulent than COVID as strict PPE compliance is of futile and void. It comes though in a rather sweet-sounding name often associated with praises securing a perfect tune for my temporal post as a Swab testing nurse… it was my name! C A R L O S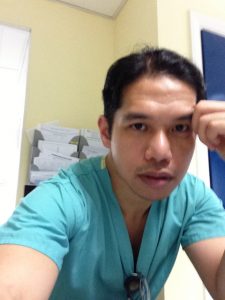 (not a new variant…yet). The now-defunct Swabbing clinic has now aliased as http://carlosmapano.com/wp-content/uploads/2019/11/caloi-cover-scaled-1.jpg' unit!
I brought in literally a plug-in fragrance, it didn't mask the "smell'. Wonder where and what it was… little did I know I swallowed my own insecurities and let its vomit rather inflate my emaciated ego.
I let the "air of confidence" diffused in a while and infused into my tiny, anaemic and dehydrated "Actor's" vein; and nourished my self-deprived-isolated-soul. My billowing pride even DJing and danced through this cheesy song as I often mis-accented the title coined to me: Mr. Swabbist to Mr. Suave. Its melody and timbre were potent enough to zonk myself into Mr. Smooth in Psychedelic land:Gentlest-marquis and flirtatious creature like a debonair hunk riding in a horse as a cover of the romance novel book.
Until a thunderstruck of reality bursted that make-believe fantasy into thin air. It was when I bumped to this holy words:
"Again, the devil taketh him up into an exceeding high mountain, and sheweth him all the kingdoms of the world, and the glory of them; And saith unto him, All these things will I give thee, if thou wilt fall down and worship me.hen saith Jesus unto him, Get thee hence, Satan: for it is written, Thou shalt worship the Lord thy God, and him only shalt thou serve." Matthew 4:8-10
A heavenly slap straight on
to my face.
Moving on…
Every year Spring brings the promise of something new. Young, green shoots of life start to break through the frosty ground. The gloomy skies begin to break and brighten as the sun burns through again. Warmth begins to return to a cold world. It is the season of transformation. It has been a full year since the Coronavirus pandemic took a stranglehold on our nation and our lives. Right now many in our world are hoping this Spring heralds the transformation of our world back to some kind of normality as the various vaccines are administered. While we pray that God will use these vaccines to bring back the freedoms we used to take for granted. Each day as we heading to the dusky glimpse of normality we are thankful for the transformative work of God that is never put on hold. As what Apostle Paul said: we.."are being transformed into (Jesus) image with ever-increasing glory, which comes from the Lord, who is the Spirit" 2 Corinthians 3:18.
Whether we have spent much time of the last year isolating or feeling isolated; even if we faced terrible losses; no matter what chaos we have had to navigate-the Lord "who is the Spirit" has been with us through it all. He has never ceased His work of making us clearer image-bearers of Jesus Christ for the world to see. Whatever seasons we face, when we turn our faces to God, we find them all to be seasons of transformation as we live in His light and His love. From despair, fear and anxiety, God turns us into people of hope, joy and peace as we live in His presence . Hence, we need to re-echo what Paul has said: "We don't lose heart. Though outwardly we are wasting away, yet inwardly we are renewed day by day. For our light and momentary troubles are achieving for us an eternal glory that far outweighs them all. So we fix our eyes not on what is seen, but on what is unseen, since what is seen is temporary, but what is unseen is eternal" (vv.16-18). While the world around us sets its sight on the visible transformation the Coronavirus virus vaccines will bring,let us be those who fix our eyes on "what is unseen". As we set our gaze on Jesus, we find ourselves renewed and fortified by our Good Shepherd. He will walk each step of the road with us, no matter what twists and turns await., leading us all the way to that final transformation when we will joyfully join Him in His glory forever.
"For certain individuals whose condemnation was written about long ago have secretly slipped in among you. They are ungodly people, who pervert the grace of our God into a license for immorality and deny Jesus Christ our only Sovereign and Lord." JUDE 1:4