Seated at the balcony of National Theatre is just like canoeing through the calm tropical island on a bright moonlight blended with the "Brown Skin Girl" calypso rhythms then vacuumed me into that tunnel of a vacuumed familiar faces, sounds, shadows, breeze, heat, swaying trees and playful children's giggles; a water tap flowed and nostalgia glowed in the bright light of Moon on a Rainbow Shawl.
The poverty stricken Philippines were too colonised by Spaniards for 330 years and neo- imperialised by Americans; the similarity was reflected in the perfect image of moonlight on the calm and rippled water, the life of a crowded, dilapidated yard in Port of Spain, Trinidad, and in the passing judgment on one another; as natural and familiar as sin
ging.
The play, written by Errol John who created this mirror image of my personal sentiment was staged at the National Theatre; truly a diamond in the rough. Set just after World War II and first seen in London in 1958 Moon is a slice of life, a lyrical example of kitchen-sink realism that is consistently alert to its characters' complex and conflicting dreams and desires.
The yard's residents include the ambitious Ephraim, a trolley conductor eager to escape his dead-end job and move to Liverpool; Mavis, a prostitute with a steady supply of American G.I.'s (but also a dedicated boyfriend); Rosa, Ephr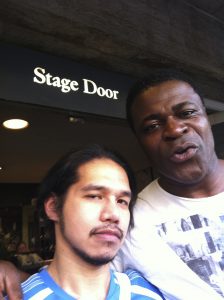 aim's girlfriend and the object of an older man's affections; and the Adamses, whose matriarch, Sophia (who was phenomenally portrayed by my drama tutor, Martina Laird) is working mightily to bring her family and the yard into middle-class respectability; for starters she'd like Mavis gone.
Martina (One of my drama tutors) is commanding as Sophia, using her physicality — her size, her melodic voice and native Trinidadian accent, her penetrating gaze — all to make Sophia the backbone of the yard, a busybody at once generous and bullying. As Ephraim, Danny Sapani is equally good in a different key. He's a strangely likeable cad: supportive and brotherly to Sophia's talented daughter, Esther, at one moment and cruel to the pregnant Rosa the next. For me, Jenny as Mavis is a stealer of any scene she's in.
"I have no time fe mock sentiment," Mavis says, and that's true of Mr. John's play too. The director, Michael Buffong obviously loves and understands this material, its humor and hardheadedness, and he makes the most of limited resources. The single set of ramshackle houses arrayed across the narrow stage is colorful and claustrophobic, and Mr Buffong's fills it with life's distracting noise: songs, children's rhymes – One, two, three, Mother catch a flea – whistling, the calls of ice and fish vendors and angry shouting.
The full packed matinee show of MOON ON A RAINBOW SHAWL i was in for a start was like caressingly hammock the audience mainly to a "Brown Skin Girl" calypso rhythms that set the mood.