DETOURS
Sunday. Afternoon. Rain (…severely pouring!)
I sat by the window covered by vapours and fogs tearing away and wiping them off by my heavily-polyestered arm figuring out my bus route.  The busy tall attendant apologetically told me that I was in a wrong season looking for a men's swimwear after I have decided to procrastinate the long plan haircut. In grave desperation to escape away from unforgiving splitting weather, I hopped off to patiently accommodating vehicle stopping by me en-route to another highstreet in search for…a swimming trunk!!! I thought I could sport a required gear in lieu of my vanity no. 1 the haircut. With my receding crown glory, don't really know why I found myself so drawn into this trendy beard-trimmed-slicked back hairstyle. The first stop has tickled my thoughts of rather going home and finish the book long due for review and research, BB Warfield's, The Authority and Inspiration of the Holy Scripture. This has snatched my best seat and jumped off on the second stop. Cold and drenched risking the blocked footpath tracking the car parkway heading to the only "refuge", Tesco. I was cursing inside as I shook myself off dry as I got in but my eyes gleamed with joy on a spacious COSTA and brewed my brain cells on a smell of a caffeine.
Sipping my caramel macchiato. I took a bite of the cinnamon swirl. I randomly arranged things in my bag, hoping to find a bill of any worth that I had kept, untangled the charger for my laptop then I found myself for a brief moment,  I could not help but stare at the scenes playing out around me, as if they were telling pieces of a story. There were people loudly speaking with their headsets connected to their phones as they explained reasons behind missed deadlines and employee absences due to the heavy downpour.
There was the glutonous Packman-like bleeping sound by the till and of bottle clanking fragilely arranged in a bag and the varied colours and shapes of grocery items can't wait to be unpacked at home. There was the bittersweet aroma of coffee and milk, a surefire combination to fight one's drowsy reading ordeal.
One could feel the chaos in the moment. I took a deep breath and closed my eyes.
Did I say, I have sworn? confusingly YES, I may not know precisely how all of these things will come into place or how I ended up in this seemed like unfortunate place I should be at. But, with hopeful hearts, I can only pray for destinations that are lovely, promising and fulfilling.
I opened my eyes and let out a deep sigh. Ordinary humanity was still playing out around me — people talking on their mobile phones but more calmly now, the endless snaking of the queues in a till and the pushing and pulling of the shopping trolleys and the carts and the likes. 
That was only the foretaste of my DESTINATIONS, here's the ultimate catch:
Earlier on I was reading on my daily devotion, EXODUS and this voyaged me back specifically to:
Exodus 13:17-18
We all know more or less the story of the Israelites. It took them 40 years to enter the promised land, in a trip that shouldn't normally last more than a few weeks. As we may also know, almost all the delay was due to their own disobedience. When the time had finally arrived to enter the land, they were afraid to do so and stepped back. The result was that it took them 40 years more (!!) to go into the land and only 2 people from the initial generation succeeded. All the others died in the wilderness and it was their kids that entered in their place. We will not concentrate on this exercise of disobedience today. Anyway, it was NOT the initial plan of God to have them in the wilderness 40 years. However God did delayed a little bit the plan of entering the land. Not for years but it was indeed a little bit longer than the shortest way. We find the relative passage in Exodus 13:17-18. There we read:
Exodus 13:17-18
"Then it came to pass, when Pharaoh had let the people go, that God did not lead them by way of the land of Philistines, ALTHOUGH THAT WAS NEAR; for God said, "Lest perhaps the people change their minds when they see war, and return to Egypt." So God led the people around by the way of the wilderness of the Red Sea.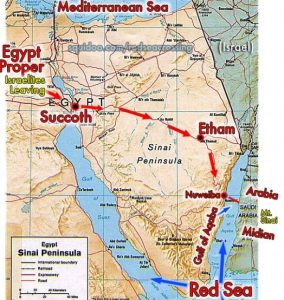 And the children of Israel went up in orderly ranks out of the land of Egypt". What strike me most was that God didn't lead the people through the shortest way but He preferred a path a little bit longer. We sail off sometimes to a trip that we expect to take time X. We expect that we will get a j
ob at age X, we will get married at time XX, we will make the first kid at time XXX and we will live XXXX years. It may not be an illogical plan. We may have planned things as we see them around in our world. We may have planned them it may be fine and it may work this way. But it doesn't always. At least it did
n't in the case of the Israelites, in my case in certain things and it might be in your case too. Sometimes time is going by and by and our lives seem to drift away from our expectations. We wonder what are we doing in a wilderness that is looking like the "wilderness of the Red Sea". 
As a breadwinner and raised in  a tight paternal and poverty stricken society, I had planned my life probably in a similar way of people of same fate and sentiment. But it didn't turned out like this. Not living the alternative (wh
at I had planned), I don't know whether it is better or worse. I don't know and I may never know. You don't know and you may never know – perhaps prior to see the One that sits on the throne – why things turned out the way they did. Why you are there still expecting something that you thought was the simplest thing of the world. Things may have happened that you had never imagined. You might had planned your life the way I had planned mine but…. You might had planned your life the way the Israelites had planned theirs but…. I have good news for you: GOD LEADS YOU. There is the cas
e where the wilderness is because of disobedience. I don't want to speak about it today. I hope you are not in this one. If you are, the answer is OBEDIENCE. "Draw nearer to God and He will draw nearer to you" (James 4:8). But this is not the purpose of this article. The purpose of this article is the unfulfilled expectation. The cases were it seems that God is late. "God" we say, "I expected from you more than what I ask or think. And yet the years go by and by and I never see my prayer answered." And God says through the mouth of the Lord with the parable of the widow (Luke 18:1-5): "Don't give up praying son. I don't give up on you." We say to God, "God, you have written about deferr
ed hope… that makes the heart sick. And yet it seems like You Yourself act like you never wrote about it". And God says "be patient". What God tells you brother today is to be patient. Follow the lead of the Lord, trust in Him and He will bring it to pass. He will give you the desires of your heart. This may not be what your mind says. After years and years you may have given up on your dreams and godly desires. I would like to encourage you to stand UP. God does not give up on You. The God that you saw when you first believed is the same today too. God NEVER changes (James 1:17). Jesus is the same yesterday and today and forever (Hebrews 13:8). The God of the terrible wonders before Pharaoh is the same God that is leading you in the wilderness too. Don't give up, admitting a defeat that
 is NOT there! If God does not take you straight away to what He has promised for you is only because HE LOVES YOU. It is not time his main concern. His main concern is YOU! It was not His conce
rn to have the Israelites in the promised land few weeks earlier. His main concern was THEM. If you look at the passage it is like God is skeptical. God is not a machine, a robot. He is Someone that THINKS. Thinks about you and your best. In this case, He was concerned about the Israelites that if they went through this shortest way they might see war and thus return back to Egypt!! God thinks of YOU my friend. The shortest way may have things that you may not be able to handle. Have you ever tho
ught that if everything came as you had planned it, whether you wouldn't have returned to the Egypt, to the world, again? You don't know. I don't know either for myself. But I do know something. That whatever I have, wherever I stand right now is the path that God has chosen for me to stand. And in this I have peace. For God is leading the way and He chooses only the best for me. And the best is to be near to Him, even if the way is a little bit longer. The purp
ose is NEVER to short the promises. The promises will come, for God has SPOKEN. But with no danger to be afraid and step back, or be tempted and do the same. The path of you life may not be exactly as you had planned it. But I can tell you. It is as GOD has planned it. It is as G
OD has thought it for YOU. And being so, it is the BEST. Stand up, walk on the way, live for today, don't care for tomorrow and God will lead your life, NOT to frustration but to what you may expect, no.. to more that what you think or expect. Don't give up on whatever is godly. Don't give up praying for this.
I stood up, picked up my things and left the café. Outside, I looked around and felt a cool breeze brush over me. The rain was gone. 
THIS HAS BEEN THE DETOURS AND NOW I WAS OFF FOR MY NEXT DESTINATION, WHERE OUR ABBA FATHER MADE FOR US.